Nowadays, most of our life revolves around the internet, especially when it comes to shopping. Even if a customer can visit a store and buy the product, most of us still choose to buy it online. This is because online shopping has proved to be convenient and efficient for a lot of us.
That being said, we are now witnessing the eCommerce industry steadily integrating technologies that can boost their brand and give their customers an ever better online shopping experience.
For instance, Augmented Reality was previously thought of just as a gaming technology. Soon many industries started to adopt this new-gen technology due to its potential to entirely alter the identity of their brand. It has now become a common phenomenon to see Virtual Try-On options while shopping online and that, my friends, is an AR feature.
Giving customers the ability to virtually try-on clothing and accessories before making a purchase has been a revolutionary concept, and now eyewear brands are catching up with this technology.
Before we dig deeper, let's look at what Virtual Try-on is and how it has proven to be valuable for eyewear brands.
What is Virtual Try-On?
Many times when I'm shopping online, I struggle to decide which product would look better on me. This is especially a problem for products such as make-up, shoes or glasses. These are the products that I would rather try on and see how it looks on me before buying.
But I usually do not have much time to go to stores nor am I a big fan of shopping offline. For me and many others like me, being able to virtually try-on products before buying them has become extremely helpful in shopping.
Thanks to AR, Virtual Try-On has become a legitimate feature that many eCommerce brands are now implementing
Here's a look at how a Virtual Try-On product would look on your face in real-time
This is Vossle's new Inline AR Feature where users can instantly interact with any product/experience in real-time when they visit your brand's page. (Know more about Vossle's Inline Feature)
A Virtual Try-On is an AR feature that lets users try-on items using a camera-equipped device. By utilizing the underlying AR technology, users can instantaneously sample and explore the products that they wish to buy.
If a website offers a try-on option, as a shopper I would automatically be more inclined to buy its products since I have the luxury to virtually try them on before buying. This being said, Virtual Try-on is helpful not just for customers but for brands as well.
Customer experience, distinctive branding, etc. are always crucial for brands in today's competitive landscape. But one of the most tiresome problems that brands are constantly attempting to tackle is lowering the customer return rate.
A decrease in customer return rate directly implies
Saving on shipping costs
Increase in customer satisfaction
Instilling brand loyalty
If you're wondering how such an AR tool can help your brand reduce its return rate, the answer is simple – When Virtual Try-on is enabled during online shopping, customers make more confident purchases hence the chances to return that product drastically decreases.
Virtual Glasses Try-On, a Revolutionary Try-On Tool
We've talked about how Virtual Try-on has become an exceptional tool for brands and their customers. Let's look at one such AR try-on solution i.e. Virtual Glasses Try-On.
The process of buying glasses is not very exciting.
Customers are presented with a display of many glasses where they are expected to buy the one that stands out the most for them. To make a decision, they also have to physically try a huge number of frames and designs that suit their style.
However, with AR, people can Virtually Try-On Glasses at home. This is just as real as physically trying them on. AR technology achieves this by scanning and analyzing the face and detecting face shape. It then places the chosen eyewear precisely on the user's face in a 3D view.
With the Virtual Glasses Try-On feature, 
Customers can use Try-On to
Discover Perfect Frame

See yourself in any pair to discover frames that fit you perfectly.



Get Style Opinion

Share your try-on session with your friends for style advice.



Explore Multiple Frames

Choose your perfect pair from the wide range of options.



Save Time & Resources

Virtual try-on eliminates the need to visit stores.

Brands can use Glasses Try-On to
Reduce Large Inventories

Offer a wide selection of virtual glasses and experiment with new designs without having to stock them beforehand.



Minimize Fear of Theft from Store

Keeping online product catalogs & creating 3D models for the same means keeping fewer products in the store.



Elevate Customer Experience

Enhances the customer experience by enabling consumers to visualize a product before making a purchase.



Increase Buyer Confidence

Virtually trying on glasses before purchasing them helps customers make confident buying decisions.



Foster Brand Loyalty

70% of customers are anticipated to be more loyal to brands that use AR in their shopping process.

Vossle, a Platform for Virtual Try-On and More
With the gaining popularity of AR, more and more platforms are emerging every day to help businesses stand out from the ever-growing competition.
Vossle was born with the idea to deliver seamless and efficient customer experiences across digital touchpoints such as the web, mobile, and marketplace.
We strive to do so by providing brands with the freedom to design their own WebAR Experiences. It does not require users to install any apps nor do they need to perform coding, hence making it a very user-friendly platform.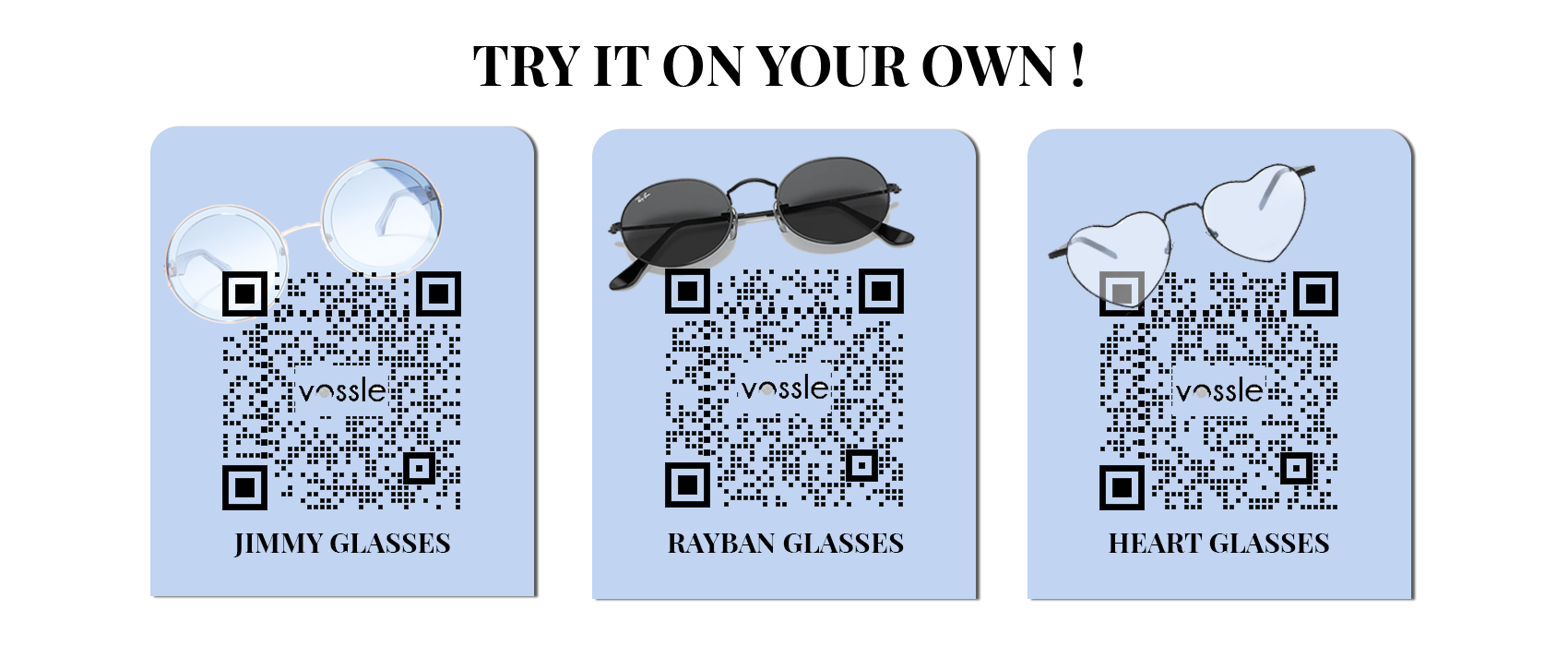 On Vossle, users can Try-On Glasses online, choose from a vast variety of options, and customize it as per their needs. Its face tracking works on both android and iOS and covers more than 3 billion smartphone users globally.
How Vossle's Virtual Try-on Helps Eyewear Brands
We've seen the many benefits the Virtual Glass Try-On feature offers but let's look at the more specific aspects which make Vossle ideal for your eyewear needs.
Try-before-you-buy Feature



On Vossle, customers can Virtually Try-On as many pairs as they prefer while relaxing at home. Unlike in a store, they can try on hundreds of pairs rather than having to make a decision right away.
No need to upload photos



Vossle AR technology quickly generates 3D virtual eyewear renderings utilizing the product pictures to produce a distinctive live camera preview, as opposed to conventional 3D scanning and time-consuming modeling techniques.

In simple words, customers do not need to upload a photo or video to Try-On Virtual Glasses. They can simply turn on the front camera, scan their face, and start exploring.
No technical expertise required



Vossle is a no-code DIY platform that allows companies to easily develop their Virtual Glasses Try-On experiences. No more than the necessary technical knowledge is required to deliver this experience. And of course, our team of experts is always available to guide you through the process.
Can AR revolutionize eyewear brands?
With the use of AR, brands can effectively integrate the Virtual Eyewear Try-On experience across all digital touchpoints by creating highly accurate, realistic eyewear models.
This new, efficient method produces 3D eyewear for a whole product line in a fraction of the time, giving brands a quick and efficient way to digitize their product line.
Brands can quickly turn their whole product line, from low-cost glasses to exclusive sunglasses, into incredibly lifelike digital models that customers can promptly try on.
The glasses stay fixed in place as users turn and tilt their heads. The technology also makes it simple for marketers to apply various reflections to the lenses to improve visual appeal and contribute to a more engaging and dynamic consumer Try-On experience.
When all these aforementioned factors are considered, eyewear brands can greatly increase their reach and develop closer relationships with new and existing clients.
With Vossle, take your brand to newer heights!
In this age of technology, including any components that can elevate your brand is important. And AR is an excellent technology to achieve this.
"94% of the users interacting with the products through AR experiences end up purchasing the product."
Moreover, by using AR, businesses can differentiate their brand from the rest, attract and retain more customers, and save precious time and resources.
Think of Vossle and WebAR when you're looking for a digital commerce solution that is easy to implement, efficient, and cost-effective. For more information on how your brand may use this incredible technology to uplift your performance, get in touch with us today!
FAQs
Is there a way to Virtually Try-On Glasses?
Yes, on AR Platforms such as Vossle, users can instantly Try On Glasses virtually on their smartphones. Users only need to turn on the front camera, scan their faces, and then begin exploring.
Is there an app for trying on Glasses?
While there are several apps made for trying on glasses virtually, downloading them is a tedious task. With Vossle, you can try on glasses on the web, hence eliminating the need to download an app.
Are there other types of Try-Ons?
When it comes to try-on, the options on Vossle are endless. With AR, you can try on everything that you'd ideally buy online- jewelry, watch, shoes, glasses, etc. Additionally, you can also use our other try-on features such as Face Effects and Face Stickers.